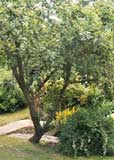 The second handfasting was much less of a production than the one in 2000. Caz was celebrating a major milestone birthday on the day the handfasting was due and had organised a party at her house in Reading. Since Caz and Steve's house has a large garden and the party wasn't due to start until around 4pm, there was ample time to hold a midday handfasting, without disrupting the preparations.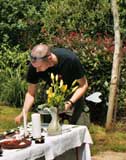 The evening before, we met up with Caz and Steve in Camden, and had dinner together at Silks and Spice. We then headed over to Reading, picking up their friend Neil on the way. Our priest, Barclay, was promoting and DJing at his psy-trance night, Inna?State, so we all headed over to the Boxing Club for a few hours of musical uplift before retiring.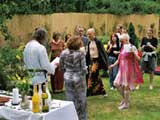 The next morning was a flurry of activity, as preparations for both party and handfasting commenced. It was a lovely sunny morning, with just a litle breeze. We chose the area around the walnut tree at the bottom of the garden for our circle, and set about decorating the tree and setting up the altar. Phil set up the altar with our altar-in-a-bag kit from the previous year, and Sean set about flower arranging around it. A trip to the local Waitrose supplied us with drinks and cakes that could, and indeed did, pass for home-made. The London posse turned up at this point, with Nick and Sylke and we were all ready.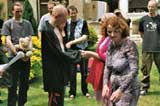 It all began, once more, with the consecration of the circle. Excluded from this part of the ceremony, we could only look on with concern as Barclay leaned a little too close to the candles and set his hair on fire. Fortunately, Caz and Wendy were quick off the mark to extinguish him, and no real damage was done. We decided to take the obvious presence of spirits of fire and passion as a good sign, and carried on.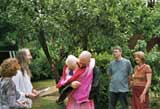 We were invited into the circle and approached the altar: Phil in a flowered sarong and the same chinese jacket as the year before; Theo dressed as a fairy, complete with wings. The rite was the same as the previous handfasting, so we had no excuses for getting anything wrong. All did indeed go smoothly, and we even managed to wait until the appropriate time for our kiss this year. We exchanged our gifts: two pendants of amethyst (Theo) and rutilated quartz (Phil). Hugs all round, and another magical wedding was ended.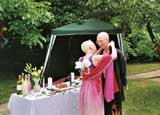 We all took a break over the cakes and wine, and, revels over, we cleared away our precious altar. Focus passed to Caz, and the evening ahead. We had music in the garden until the sun set, then music around the house until it rose again. A magical night was enjoyed by all, and we emerged in the morning to find the birthday girl tired, but still going strong.